Online Private Prenatal Yoga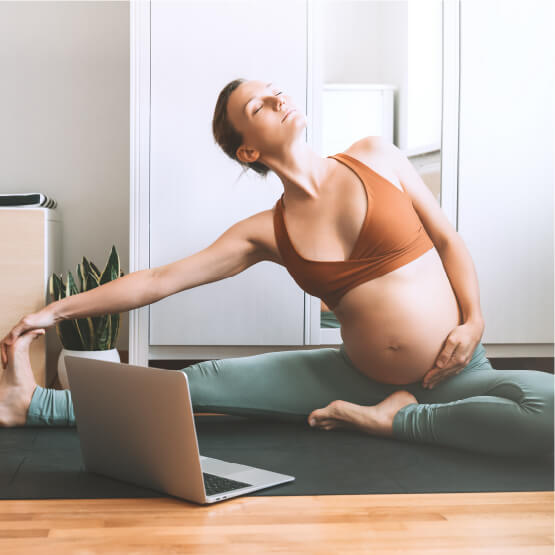 A private yoga lesson designed around your needs and abilities is the best way!
You will work out together with your instructors according to a program designed JUST FOR YOU.
Choose your plan
Online Private Prenatal Yoga
6 key benefits of Private One-on-One Yoga Lessons for Prenatal Yoga
[1] Someone to understand your situation
[2] Your own path to reach your goal
[3] Personal feedbacks
[4] Safety
[5] Proven reputation
[6] 1-on-1 but affordable price
Service Overview
Why we offer prenatal yoga:
Prenatal yoga allows pregnant women to maintain their own and their baby's health while having a comfortable experience, alleviating physical and mental stress due to pregnancy and childbirth. By increasing flexibility, teaching breathing techniques, and promoting relaxation, it supports preparation for childbirth.
Features of ONE OM ONE's private one-on-one yoga lessons:
ONE OM ONE provides completely individualized yoga lessons that are adjusted according to each individual's needs. We take into account each customer's physical condition, fitness level, and the progress of their pregnancy, to design the most effective sessions. As a result, customers can enjoy a safe, personalized yoga experience.
Individually customized guidance according to the physical condition during pregnancy:
At ONE OM ONE, each Prenatal yoga session is customized according to the physical condition and mood of pregnant women. This allows clients to pursue themselves, enhance self-awareness, and achieve physical comfort and relaxation.
Solving Problems Faced by Pregnant Women
Pain and physical discomfort during pregnancy:
Various changes in physical condition occur during pregnancy. Physical discomforts such as back pain, lower back pain, and body tension are experienced by many pregnant women. In the private yoga sessions at ONE OM ONE, we teach yoga poses and breathing techniques to address these problems, providing comfort and reassurance.
Anxiety and stress:
While pregnancy is a joyful time, it can also bring mental stress, such as anxiety about confronting a new life and giving birth. At ONE OM ONE, we use yoga techniques that promote relaxation and stress relief to alleviate these problems.
ONE OM ONE's Private Yoga Instructors Are Experienced and Provide Personalized Support:
The instructors at ONE OM ONE understand the potential problems and challenges that pregnant women may face. With excellent listening skills and deep understanding, they stand by each customer and provide the best yoga session for each individual.
Effective care with individually customized lessons for childbirth:
Childbirth is a major challenge both physically and mentally. At ONE OM ONE, we provide individually customized yoga lessons to get you in the best physical and mental state for childbirth. This effectively supports preparation and recovery for childbirth.
Frequently Asked Questions
When is the appropriate time to start yoga during pregnancy?
Generally, it is appropriate to start yoga after the 12th week of pregnancy. However, always seek the advice of a doctor before starting. Also, the appropriate start time varies depending on each person's physical condition and exercise experience, so it is important to consult individually.
Is yoga safe during pregnancy?
Yes, yoga is safe during pregnancy, but it is important to do so under professional guidance and instruction. In the private yoga at ONE OM ONE, experienced instructors provide lessons tailored to each individual's physical condition and needs.
Can you tell me the benefits and specific advantages of prenatal yoga?
Prenatal yoga promotes relaxation of the mind and body and alleviates stress and anxiety. It also reduces physical discomfort during pregnancy, maintains stamina and flexibility, and prepares for childbirth. Practicing deep breathing allows you to achieve a relaxation effect and also helps in pain management during childbirth.
Testimonials
Heather
After experiencing a private yoga class with Fonny, I can say that it was truly a wonderful and beneficial session. Despite my physical challenges, Fonny guided me with patience and care. The one-on-one format allowed me to focus on my practice without any distractions, and it was a great convenience to have the class conducted in the comfort of my own home. The personalized feedback and attention to detail made a significant difference in my experience. I highly recommend this unique and exceptional service!
Kristina
The instructor was amazing, patient, and personalized the session to my needs. As a teacher myself, I appreciated her guidance. The convenience of practicing at home was a game-changer for me, especially during winter. The affordable pricing and flexible schedule make it a perfect fit. I can't wait to share this platform with my friends, and I highly recommend it to anyone looking for a positive and mindful yoga experience.
Gabriela
Attending the yoga lesson was a fantastic experience, especially as a pregnant woman. The instructor's focus on breath and personalized attention made me feel at ease and calmed my excitement. The fee structure is fair, especially for private classes. I highly recommend this for elder individuals, and in European cities like Vienna or Madrid, it would be a hit! Thanks for the great session!
Message from Instructors
Leng Zie

"Prenatal Yoga is a beautiful practice to prepare for childbirth and motherhood. Like all yoga practices, it connects body, mind and during pregnancy it connects with the beautiful soul within too. From teaching breathing techniques to providing opportunities for bump-friendly stretching, prenatal yoga is great for working out for two. In addition to building strength and flexibility and relieving stress, a steady practice of prenatal yoga can help your body prepare for labour." by Leng Zie
Instructors for Prenatal Yogis
Begin your 1-on-1 practice now
Discover what you will get from us. You can try our first 7-day trial up to 7 private yoga sessions for only $10.
Find Your Slot