Online Private Yoga for Plus Size & Body Positivity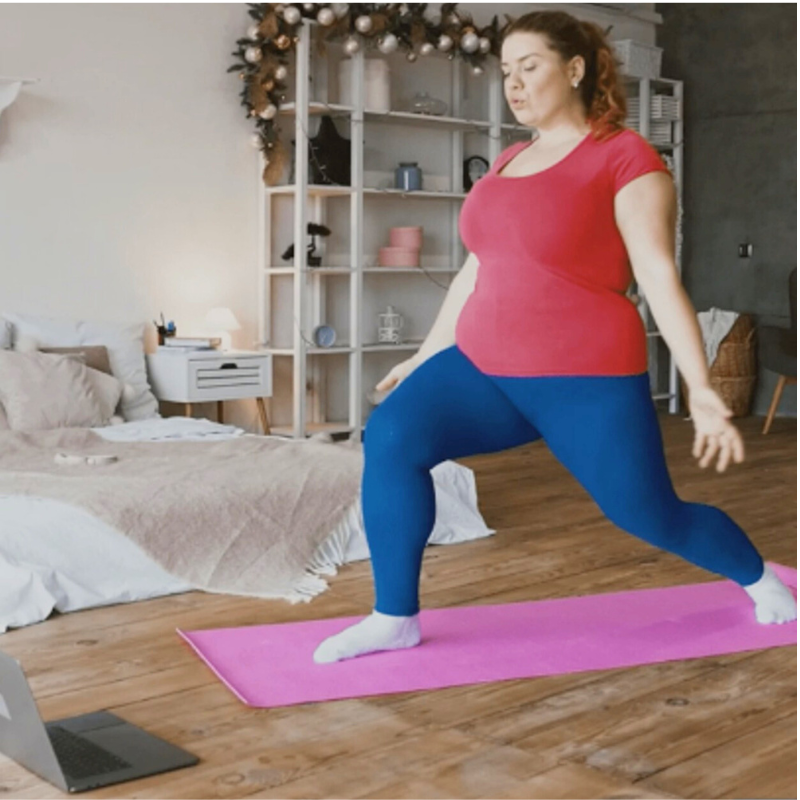 A private yoga lesson designed around your needs and abilities is the best way!
You will work out together with your instructors according to a program designed JUST FOR YOU.
Choose your plan
Online Private Yoga for Plus-Size
6 key benefits of Private One-on-One Yoga Lessons for Plus-Size
[1] Someone to understand your situation
[2] Your own path to reach your goal
[3] Personal feedbacks
[4] Safety
[5] Proven reputation
[6] 1-on-1 but affordable price
Service Overview
Why we offer yoga lessons for Plus-Size:
Yoga is beneficial for everyone, and can promote physical and mental health regardless of body shape or size. However, in standard yoga classes, it can be difficult for Plus-Size to participate comfortably while being themselves. We aim to remove that hurdle and enable people of all body shapes to enjoy the benefits of yoga.
Features of ONE OM ONE's private one-on-one yoga lessons:
ONE OM ONE's 1-on-1 private yoga lessons are fully customizable to each individual's needs. We pay attention to each student, adjusting yoga poses to their body movements and abilities. This allows us to provide a safe and effective yoga session.
Individually customized instruction to achieve your ideal body:
Our instruction is adjusted according to individual physical abilities and fitness levels, so that Plus-Size can enjoy yoga in their own body shape. This allows each student to confidently practice yoga poses and proceed at their own pace.
Solving Problems Faced by Plus-Size
Body Not Moving as Desired:
Yoga is highly effective for issues such as not being able to move the body as desired, as it helps to enhance flexibility, strengthen muscles, and improve balance. At ONE OM ONE, we adjust yoga poses according to individual abilities, aiming to improve body movements.
Anxiety and Stress Due to Poor Health:
Yoga has the effect of reducing stress and promoting relaxation. At ONE OM ONE, you can achieve comfortable relaxation through deep breathing and gentle movements.
ONE OM ONE's Private Yoga Instructors Are Experienced and Provide Personalized Support:
By dedicating ourselves to each student, we can meet individual physical and mental needs. The experienced instructors at ONE OM ONE deeply connect with each student and provide the necessary support on the path of yoga.
Providing Effective Care with Customized Lessons That Consider the Mind and Body of Plus-Size Individuals:
We understand the state of the mind and body of each student and customize yoga lessons according to their needs. This enables plus-size students to effectively utilize yoga and improve their physical and mental health.
Frequently Asked Questions about Yoga for Plus-Size
Will the yoga poses and movements put a strain on my body?
Yoga poses and movements are generally gentle on the body, and do not place strain on it when done correctly. However, it is important to understand the limits of your own body and to avoid poses that push you too hard. If you have concerns, consult with a yoga instructor.
I'm worried about whether I can perform the yoga movements well.
Yoga is a practice for connecting with your own body and mind, not for comparing yourself with others. While some poses may be difficult at first, your body will become accustomed to them over time. It is important to proceed at your own pace without pushing yourself too hard.
Is there a general timeline for when I might start to feel the effects of yoga?
The effects of yoga can vary from person to person. Some people may feel results in a few weeks, while others may take several months or more. Rather than the accuracy of the poses, regular practice and deepening the connection with oneself is important.
What physical changes can I expect from doing yoga?
Since yoga uses all the muscles in the body, over the long term you can expect to improve muscle strength and flexibility, as well as correct posture. In addition, by practicing deep breathing, you can also experience stress relief and relaxation.
Testimonials
Michelle
I had a wonderful experience after my yoga session with Fonny. As someone with lower back pain and stiffness due to obesity, I found it challenging to keep up with group classes. Fonny offered personalized attention and corrections, making me more aware of my postures. While the first class was an orientation, I appreciated the calm, flowing approach she took. The pricing options were attractive, and I'm considering joining once a week to complement my other workouts. Overall, I'd rate it a 8 or 9 out of 10. Looking forward to the next session!"
Safa
I had an amazing experience with the online private yoga class! As someone struggling with obesity and lower back pain, the personalized attention and live feedback were game-changers. The teacher's care and positivity made me feel supported throughout the session. The price packages are affordable, making yoga accessible to everyone. I highly recommend this service to anyone seeking a comfortable, effective, and uplifting yoga practice.
Tasha
As someone dealing with chronic lower back pain and struggling with obesity, I found the one-on-one yoga practice perfect for me. Living in a rural area, I had no access to yoga studios, but this personalized mobile service was a game-changer. The instructor focused on my positioning and tailored the sessions to my needs, which helped me improve my flexibility and mobility. Though the price was a bit high, the program was excellent, and I'd highly recommend it to others. I look forward to rejoining if it fits my budget. Thanks for the wonderful experience!
Instructors for Plus Sized Yogis
Begin your 1-on-1 practice now
Discover what you will get from us. You can try our first 7-day trial up to 7 private yoga sessions for only $10.
Find Your Slot